In one of the most harrowing food discovery experiences ever, a six-year-old girl choked on small pieces of face masks that were present inside her chicken nuggets.
According to her mother's claims, the nuggets were from McDonald's.
The young child's mother, Laura Arber, stated that she made the horrifying discovery in more than one of the 20 chicken nuggets that she got for her children. Reports went on to reveal that the nuggets were from the Aldershot, Hampshire branch of the famous fast-food franchise.
The 32-year-old mother says that she took three of her kids with her to pick up the order via takeaway. After receiving their meals, they returned back to their home to enjoy their meal. But little did they know about the scary surprise in store for them.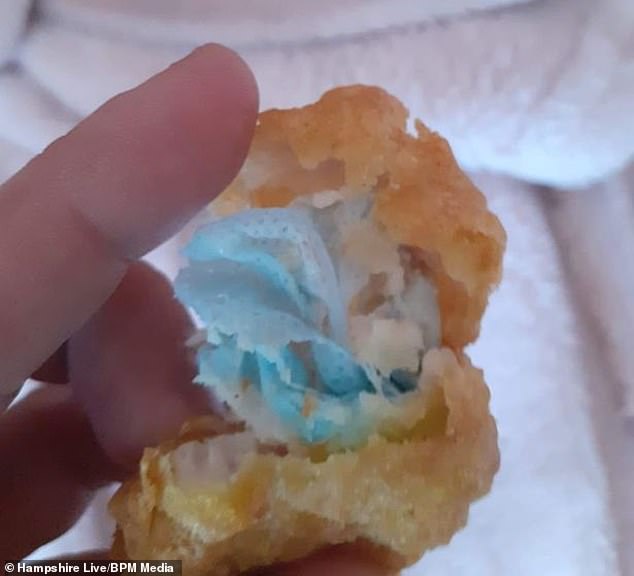 When the family sat down together to enjoy their meal, Laura claims that she witnessed her six-year-old daughter, Maddie, having some trouble with her meal. It was as if she couldn't eat properly. And that was alarming for Laura.
Hence, she rushed to her side and that's when she found small pieces of a blue-colored disposal face mask, buried inside her food.
Laura claims: "My daughter Laura started to choke on her food and that's when I made the decision to place my fingers down her throat so that I could loop it out. And that's when I could only find blue with the sick. I thought to myself, what is this?"
Laura went on further to express her rage and anger over the fast-food chain. She says that she couldn't believe that blue pieces were coming out of not one, but two of the 20 chicken nuggets.
Similarly, Laura claims that the mask appeared as if it was cooked into the food. "It looked like it was an integral part of the mixture," she explained. "It's clearly a mask, you can even see the seam and how hard it is inside there."
After speaking to the representatives on the phone, Laura headed to the restaurant to speak to the manager. And that's when she was informed that the nuggets aren't cooked on the restaurant's premises.
Above all, Laura is still furious as she hasn't received an apology. Similarly, she's shocked that the chain is still serving their chicken nuggets.